Back in the day (don't all great stories start this way?) when search engines were new it was easy to have a web presence and with a few pages and a healthy dash of metatags and you were off to the races! These days with machine learning and continuously improving data analytics you have to engage in a great deal of effort to rank naturally and metatags and a nice website are not enough! You're going to need a plan.
SEO IS ABOUT RELEVANCE
So, whatever you do, there are probably others in your market space and industry who've been doing it longer. This isn't a problem, just a reality. You can hope that they haven't been engaging customers on the web or social media platforms, but who would want to take those odds? Here, let's take a simple example: Pool Supplies.
So here is an interesting tale of two companies:
AZ Pool Supply Warehouse – A small local single location pool supply company.
Lesile's Pools – A nationwide pool supply company started in 1963 in California.
First we'll start with the Google Ad's to the search: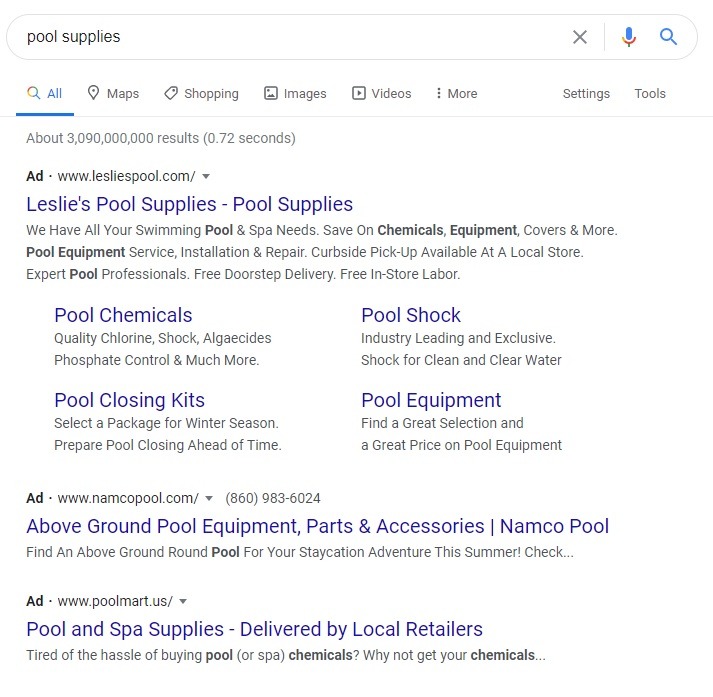 So there is Leslie's "buying" their way to the top of the list. Not a bad choice at all for a nationwide company. Not surprising, but the next image is!
These are the "natural" results. Basically, azpoolsupplywarehouse.com is considered by Google to be more relevant! Take a look at both of their sites, to the human eye they're both "doing" the same thing. In terms of SEO, the sites and the company's web presence are not equal. Just think about "buying" your top spot. Ok. So when you Google do you go to the very first AD returned? Probably not, at a minimum if it's local you check the map for the closest locations. Do you check the "natural" results vs the AD before you click? Most likely. So in a perfect business world, you want both top spots!
LAY OF THE LAND
You've got a business to run! Do you have time to learn the lay of the SEO land? Well, if you want those ambient sales that come from more than your physical presence or word of mouth, you'll need to. It's an investment. Anyone telling you otherwise is selling you snake oil. Make sure your business and its website are registered with Google. You're going to need to become comfortable with as many social media platforms and business platforms as possible and create a company presence. Try out Namechk. It will be a bit overwhelming, it's a lot, but it matters! Once you've taken these first steps, it's time to consider blogs, posts, and perhaps an ad campaign on the most appropriate platforms. This is not a fire and forget process these days. You'll need to tend to your platforms, engage your customers, and share. Sound tiring? It doesn't have to be with the right team on your side.
We love helping small business thrive and we'd love to help you!